Blog Home
Restaurants Bars in Federal Hill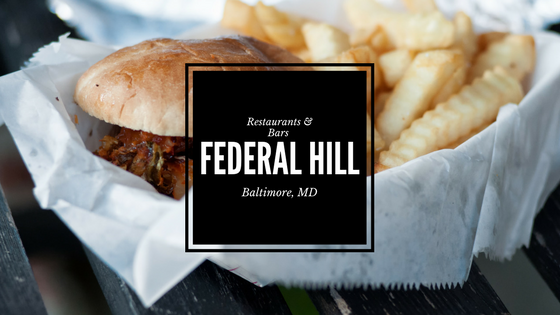 In this post, the Hanover Cross Street Blog is featuring five of our favorite bars and restaurants in Federal Hill. We know that you will love stopping by one of these delicious restaurants for a drink, a burger, or a fun night with friends this month. Head to one of these nearby Baltimore, MD restaurants for an exciting night out on the town. We are including reviews from Google with each restaurant.
1132 S Hanover St, Baltimore, MD 21230
Elizabeth Gall: "I started coming here to see a friend's band and would recommend even on nights where there isn't live music. It's a tiny rowhouse dive bar - you might wait for a seat, but you won't be 3 people deep waiting for an overpriced, watered down cocktail. Make sure to get the Evil shot (their take on the [Lithuanian] krupnikas). It tastes like Christmas and bad decisions."
1110 S Charles St, Baltimore, MD 21230
Alan Cantrell: "Burgers were great, evidently they reworked their menu a couple months ago, so whatever they did must have worked. We were there before the rush, so really good service."
1118 S Charles St, Baltimore, MD 21230
Steven Lunsford:"Pretty good. Their guac was tasty and the serving size was pretty large. The cubano was GIGANTIC. It came with a massive pile of fries too. It was good, and there was definitely enough to take home for lunch tomorrow. They also have decent drink and food specials at happy hour."
1016 S Charles St, Baltimore, MD 21230
Michelle Finan: "A stand out noodle bar in baltimore. The short rib is cooked to the 9s and the miso broth is a spicy treat. There's a soft boiled egg on every order and it's generally too big for me to eat in one sitting. It can be busy so a little slower than your average take out but don't freak out because it's worth it."
1105 S Charles St, Baltimore, MD 21230
Nathan Kemp: "Sushi tasted very fresh. I ordered the spicy lunch maki maki special. The maki rolls were actually spicy! Most places say spicy but they aren't very. It wasn't overwhelming, but still tasty. I got a side of shumai as well, and they were good. A little small, but the taste was nice."
What's your favorite restaurant in Federal Hill? Let us know in the comments, and we'll check it out! Thanks for reading our post!